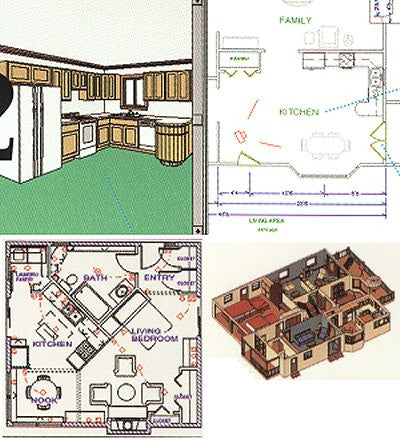 Item 10615 3D HOME ARCHITECT
With 3D Home Architect CD-ROM Edition, it's remarkably easy to create professional-looking floorplans, complete with realistic 3D views. Even beginners can use it for everything from remodeling a room to designing a new house.
In minutes, you'll be up and running. The program's built-in intelligence guides you every step of the way. No need to worry about making mistakes or overlooking crucial details.
3D Home Architect gives you everything you need in a single application: pre-drawn plans, a huge library of furniture symbols, a materials list -- plus 3D views from virtually any perspective. Unlike other design programs, 3D Home Architect lets you move from 2D to 3D and back with a simple click of the mouse.
Whether you're a veteran do-it-yourselfer or just looking for a better way to visualize your design ideas, 3D Home Architect gives you what you need to do it right.

Materials List - 3D Home Architect will automatically prepare a spreadsheet of all
the materials you'll need. Just input their cost and you can easily calculate expenses.

Plan Check- takes you on a room-by-room tour of your plans to suggest changes you may want to consider.

Goof-proof Tools - The tool-bar provides all the necessary tools to create a complete floorplan, with everything you need right at hand.

Pre-drawn Plans- To help you get started, 3D Home Architect includes dozens of professionally designed plans -- for entire houses, kitchens, bathrooms and additions.

Interactive 3D Editing - View 2D and 3D views on screen at the same time. Choose different camera angles to see your design from every per-spective.

SmartParts Technology - Automatically stops you if you try to put something--a door, win-dow, appliance, fireplace, etc.--where it can't be properly installed.

Detail your plans by choosing from hundreds of symbols for fur-niture, fixtures and appliances.
Experiment with various colors and shades as you create your own personal color scheme.
Get a bird's-eye view of your design in Plan Overview, where you can either edit the big pic-ture or zoom in to adjust details.
Put away your measuring tape. 3D Home Architect automatical-ly labels dimensions and calcu-lates areas.
Export to various CAD pro-grams in DXF file format.

Easily create a detailed floorplan that you can hand off to your contractor, architect or interior designer.
Interactive 3D Editing instantly changes your 2D floorplan when you make a change in 3D and vice versa.
Plan Overview gives you a bird's eye view of your entire floorplan.