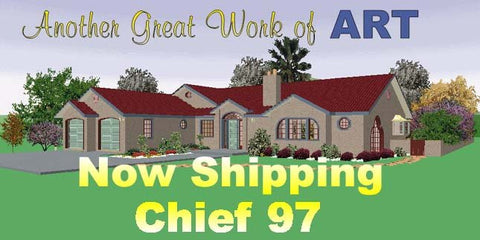 Item 10616 CHIEF ARCHITECT
Chief Architect allows you to easily design homes and create professional looking plans,
elevations, sections and 3D views of your design.

Chief Architect can produce external 3D views of your home design including homes up to 4 stories and/or with complex roofs. It has a built-in automatic roof generator that builds most standard roofs. It also has a manual roof editor for creating complex and/or customized roof designs.

Chief Architect's revolutionary technology aids your creativity by allowing you to design using building blocks of the building industry, i.e., walls, windows, doors, cabinets, etc. This allows you to think about what to draw, not how to draw it. It comes complete with symbol libraries of furniture, appliances, and fixtures. As you are designing your plan, the Chief will automatically be generating a Bill of Materials. And, you can view your plan in 3D at any time with a single mouse click. Your designs can encompass the entire house, as the Chief supports interior views as well as roofs, exterior elevations, and cross sections.

Chief Architect is a stand-alone product and not an add-on module to an expensive CAD
system. Typical users are developers, contractors, remodelers, architects, and interior
design professionals.