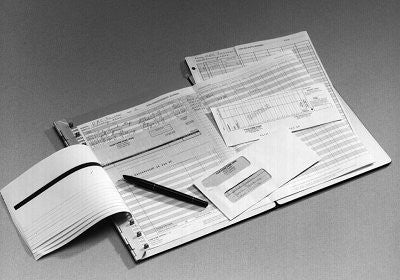 Item 10135 FOLDING METAL PEGBOARD \n( W-1045-WLT 12 X 24-1/4 OPEN) 01/2015\nCOLOR WALNUT \nCLOSE: 12 x 12 7/8\n¼ CC RECTANGULAR PUNCH, PEGS 1/8 x 3/8
This 10" x 12" folding pegboard is simulated wood grain. The pegs align the bookkeeping journals and the shingled checks. This is a durable one time expense. Just assemble the bookkeeping journal on the folding pegboard; lay a shingle of personalized checks on top. Simply write the check as you do now and a carbon strip automatically duplicates the information into your journal. Check design includes space for the address of the payee - when you slide it into the one-write double window envelope, it is already addressed. Time saving ease!!!
Also view the disbursement and receipt journals that work with this system.