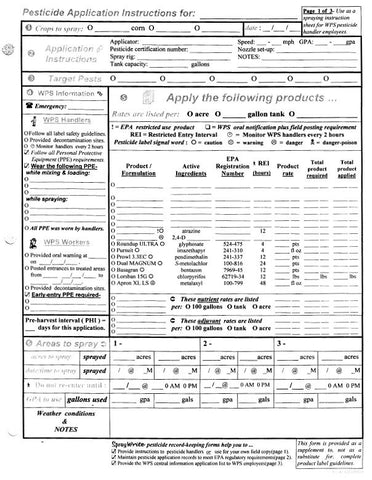 Item 10601 SPRAYWRITE FOR VEGETABLE CROPS - BOOKLETS OF 50 - 3 PART CARBONLESS FORMS
How do spraywrite forms work?

Growing a profitable crop is becoming more challenging every year. And complying with the pesticide record-keeping requirements of the EPA Worker Protection Standard (WPS) certainly, adds to that challenge!

Spraywrite record keeping systems were designed as a simple, cost-effective solution to this problem. There simply is no easier way to comply with all of today's pesticide record-keeping requirements!

Spraywrite pesticide record-keeping systems are available for these crops:


By simply filling out the top copy of a 3-copy carbonless spray record form, you can automatically produce all the paperwork necessary for full WPS compliance. Spraywrite forms were designed to minimize the amount of writing you need to do, saving you time and increasing accuracy. Most of the information you need to record is already on the form.

Page 1- Use as a spraywrite~ instruction sheet for employees involved in spraying. Or if you do the spraying yourself, then use it as a field copy. Many of the products you normally use are already listed- along with their EPA number, REI, etc. All you do is "check the boxes" for the products you plan to use and then enter your application rates. Many fields can be easily included on one page.t

Page 2- Serves as your permanent spray record, meeting all WPS, EPA. and USDA requirements. This copy will list the rates you actually applied as well as dates/times applied. acres covered. gallons applied and weather conditions. plus any other application notes.

Page 3- The final page fulfills the requirements of the WPS central location pesticide application list, informing WPS employees of re-entry intervals for each application. Only the exact information required by the WPS regulations passes through to this page- the rest is automatically filtered out by the form!